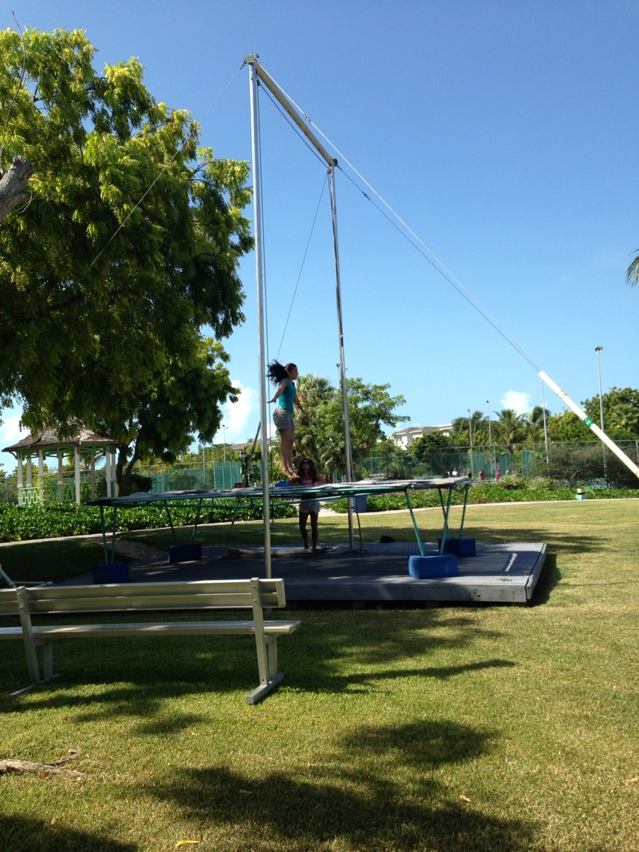 Another great thing about Club Med is there are activities for just about everyone.
(And if your thing is to just lounge at the beach and drink, there's plenty of that for you. That's my favorite pastime.)
Like most trips I brought exercise clothes with me. And about half the time they don't leave the suitcase. This trip seems to be turning out that way.
Besides, sailing, windsurfing, snorkeling, scuba and other water activities "regular" exercise classes are also offered along with a gym.
There's power walking, stretching (which I think is kinda like yoga, but since I haven't gone I am not certain), abs and butts, Zumba, boot camp, water aerobics, etc.
There is also the circus where I tried doing tricks on the trampoline. It's fun, but man, is that a work out. I probably did 15 minutes on the trampoline and then took a break before trying the trapeze.
The beginners got a quick lesson on how to stand, hold the bar and the few tricks we were going to do.
The scariest part for me was when I had to grab the bar with my second hand. That meant I was trusting someone to hold on … Continue reading