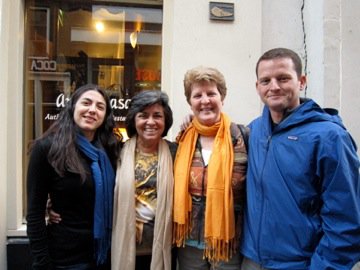 When I was 9 and my brother was 5 our parents divorced.
The choices and decisions my mom made almost 30 years ago makes me the person and woman I am today.
At a time when few people were divorcing my mom made the best decision for herself and for her kids. And we struggled. But as I look back at the hard times and great memories I am proud of my mom and the little family we were.
One of my favorite memories were Friday nights. At the end of our week we would get a movie or two at the 99 cent video store and pizza from Little Caesars. We would pile on the sofa bed and watch movies and eat our pizza and zonk out.
Growing up with a single mom was very humbling. The sacrifices my mom made for John and me was truly an act of love. And I will always be grateful.
My mom has been retired for about 9 years, she owns her own house (has for many years), travels regularly, volunteers at many organizations (it's like part-time job) and reads like crazy.
She is such an inspiration for how much she cares … Continue reading