2018 wine and yoga events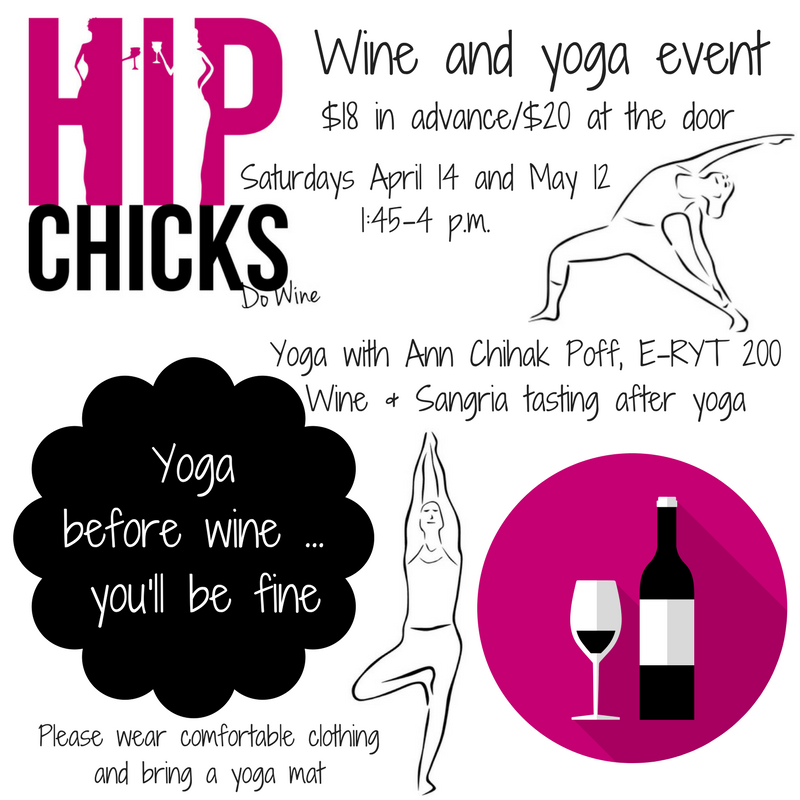 I am once again partnering with Hip Chicks do Wine in 2018 for more wine and yoga events.
Wine and yoga events at Hip Chicks are so much fun! If you came last year, you know how great they are, and you likely want to come again. And if you didn't have a chance to come and want to, book the below dates now!
You don't have to be hip or a chick to come and have fun. Guaranteed!
The dates are Saturday, April 14 and Saturday, May 12. (Summer dates are Saturday, June 23; Saturday, July 21; and Saturday, August 18.)
Registration is from 1:45-2 p.m.; yoga from 2-3 p.m.; and wine  and sangria tasting from 3-4 p.m.
This year Hip Chicks is also throwing in a sangria tasting in with our four wines.
Advanced tickets are $18 ($20 at the door).
Go to hipchicksdowine.com to purchase your tickets ahead of time to ensure your spot. (There is limited space.) If you click the linked dates above that will take you directly to the cart to purchase tickets for that date(s).
Bring a yoga mat and wear comfortable clothing.
All levels are supported and welcome.
You will enjoy an hour of wine-themed yoga fun with me. After yoga, we will taste four wines and one sangria from Hip Chicks do Wine.
Glasses, bottles, cheese plates and beer are available for purchase during our tastings as well.
Any questions, feel free to e-mail me at ann@gofitgirl.com or Hip Chicks do Wine at winegoddess@hipchicksdowine.com.
Hip Chicks is located at 4510 SE 23rd Ave. Portland, OR 97202. Phone number is 503-234-3790.
---