Ann Chihak Poff, CYT 500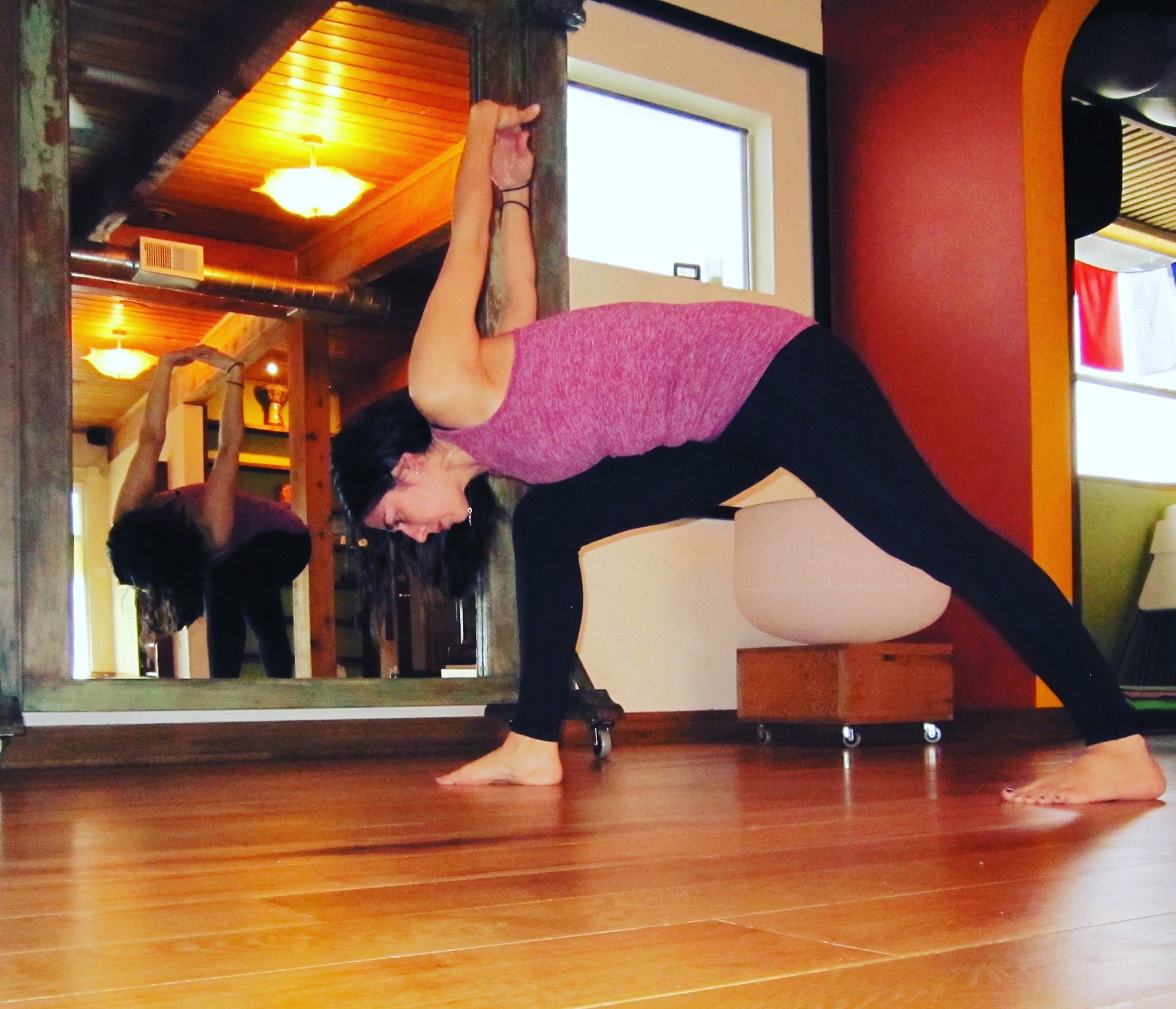 I teach Hatha/alignment-based yoga and Restorative yoga.
I teach to all levels, whether you are a beginner, recovering from an injury, needing a slower pace with strong alignment cues, gentle adjustments and some humor I'm the yoga teacher for you.
All levels are supported and welcome.
All students are welcome. All students are loved. All students are safe.
I teach two weekly Zoom Yoga classes (at noon on Wednesdays and 5:30 p.m. on Thursdays–times are Pacific). See more information below.
During the COVID-19 virus pandemic I am also pre-recording yoga classes, which I am uploading to my YouTube channel. See more information below.
I am still available for privates and special events via Zoom during the pandemic.
E-mail me at therealgofitgirl@gmail.com for more information on:
Private yoga sessions via Zoom (which caters to your specific needs)

Yoga party via Zoom for you and your friends/co-workers/family (one hour private group yoga class for you and your invitees)

Reiki sessions, which are 15-20 minute chair sessions and free (for now) ON HOLD FOR NOW


---
Weekly Zoom yoga classes
Weekly Yoga Classes via Zoom with Ann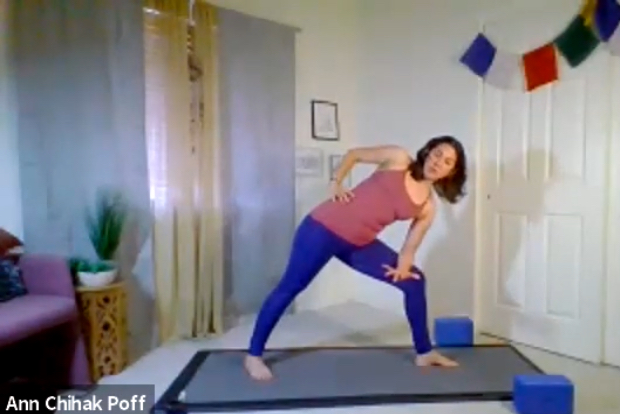 Wednesdays at noon Pacific** (Jan. 6, 13, 20, 27; Feb. 3, 10, 17, 24; Mar. 3, 10, 17, 24)

Thursdays at 5:30 p.m. Pacific** (Jan. 7, 14, 21, 28; Feb. 4, 11, 18, 25; Mar. 4, 11, 18, 25)


Drop ins are $10 via Venmo/$11 via credit card. You must e-mail me no later than two hours before class to sign up.
The classes are for an hour and are all-levels Hatha. If you've never done yoga before you will be OK practicing with me. And if you've practiced a long time you will still be challenged with me.
I also record these classes. The recorded class(es) are available to anyone who pays for a class or classes. If you miss class, you can take it later. If you made it to class and want to take it again (and again) you can!
**The times listed are Pacific. (Arizona is on Mountain time until March 14, 2021.)
E-mail me at therealgofitgirl@gmail.com to sign up for a series class. I'll send you a link for payment and a waiver for you to read, sign and scan back to me.
---
Upcoming special yoga classes/workshops:
Valentine's Day donation-based yoga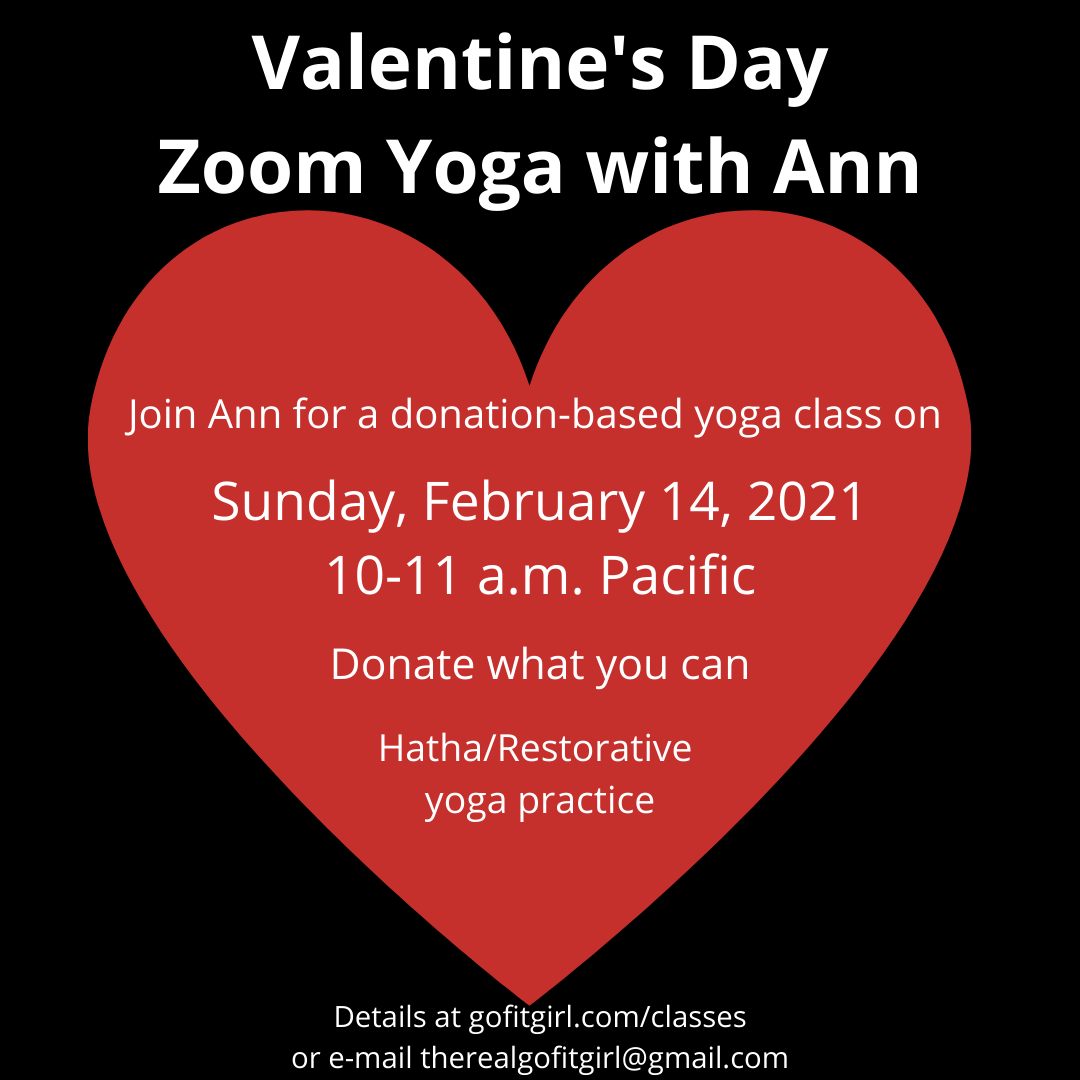 Event: Donation-based Valentine's Day Yoga with Ann via Zoom (Hatha/Restorative yoga class)

When: Valentine's Day, Sunday, February 14

Time: 10-11 a.m. Pacific/11 a.m.-noon Mountain/Arizona/noon-1 p.m. Central/1-2 p.m. Eastern

Donation: Sliding-scale donation (pay what you can)


*Sliding scale suggestion(s):

$0 I am so grateful to be here.

$5 I have had a little bit of a setback. But I am OK and grateful to be here.

$10 I am comfortable and want to donate at the regular drop-in rate.

$15+ I am thriving and want to pay it forward.


I will donate half the proceeds to Community Food Bank of Southern Arizona.
If you're interested in attending e-mail me at therealgofitgirl@gmail.com to reserve your spot. (Please give me at least two hours notice.) (You will also need to fill out a waiver if you are new to Zoom yoga with me.) You can make your donation via Venmo or via credit card by clicking here.
---
YouTube yoga classes with Ann
My YouTube yoga classes will always be free. You have more than 30 classes to pick from, with new ones being added on occasion.
If you have the means and are inclined, you can make a donation to my teaching. I will in turn donate part of the money to a local charity. There are two ways you can donate to me:
If you would like to donate to me each time you take a class or a one-time payment, feel free. Again, I don't want anyone to feel bad if they can't pay or feel obligated to pay. This is totally voluntary. I am not doing this for money. I am doing this because I believe it is what I can contribute to your self-care, self-love and good energy during these scary times. This is my gift to you.
Here's my idea: People donate to me as they wish. Every time the donations reach a balance of $50 I will donate $25 of that to a charity in Tucson, where I live. Of those who donated that $50, their names will be put in a hat and the "winner" gets to pick the charity where the money goes. You have 10 charities to choose from:
---